PLANNING A TROPICAL WEDDING IN THAILAND

PLANNING A TROPICAL WEDDING IN THAILAND

by Asia Villas

2017-09-26
Imagine sharing your vows to the backdrop of a turquoise ocean, crystalline white sand between your toes, the sun warming your shoulders and a kaleidoscopic landscape adding an extra special aura to this magical day.
With such spectacular visions in mind, is it any wonder that many young matrimonial couples now leave their homeland in search of the most idyllic wedding destinations?
We think not.
Thailand has quickly climbed the ranks for such ceremonies with its diversity of magical isles such as Koh Samui and Phuket; or the option of a private yacht, with celebrations over the Andaman Sea too tempting to resist.
As one of the most developed nations of South East Asia, planning a wedding in Thailand is not as daunting as one might expect. Most of the local population are more than comfortable communicating in English and, where many luxury destinations would be otherwise unaffordable, in this equatorial dreamland, couples are able to realise their fantasy wedding - and all within budget.
If you have ever dared imagine your paradisiacal venue, we invite you to read on and recognise that your dream might be closer to reality than you'd ever thought possible.
Finding Your Perfect Destination
Thailand is a cultural honeypot that blends island life with an evolving economy, so it is vital you do some research to find a setting that matches your expectations when it comes to paradise.
Phuket is the luxury isle that draws in the jet-set. Reams of extravagant accommodation sit high up in the hilltops, while idyllic beachfront villas have their fronts lapped by the sea – either locale an impeccable setting for a ceremony, the only struggle is the choice. 
Koh Samui has its charm, its tranquil northwest boasting the most deserted of white-sand beaches that stretch as far as the eye can see, crystal-clear waters and bustling sea life your only company in otherwise isolated surrounds.
Yet, while many of the islands have their own idyllic hideaways, the party-town of Patong or the bustle of Bo Phut may not quite reflect the blissful dreams you had in mind, so we beg you to do your research – unless post-wedding revelry is the order of service.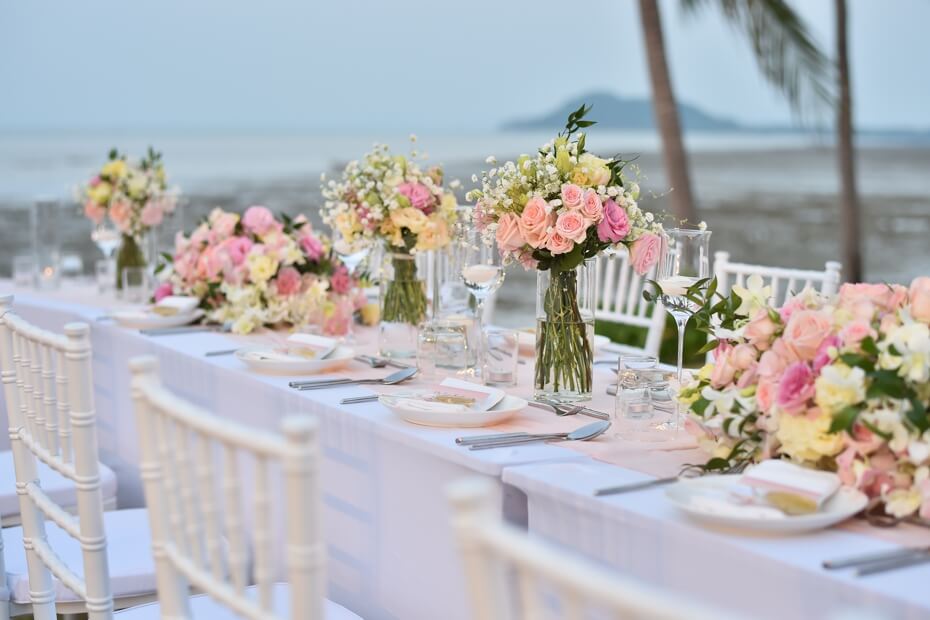 Use a Wedding Planner
You are supposed to enjoy your wedding day so remove the stress of planning and use a good local planner. Planners can assist for all weddings dugets from simple beachfront renewal of vowels to lavish luxury weddings with no expense spared.  
Check The Weather
As with any tropical oasis, one can only roll with the climate so if it's the gentle warmth of the mid-season sun you are after, November to February is your best bet; the rains have withdrawn, the sun is at its kindest and the skies a perennial blue.
For those with a strict budget in mind, the quieter season of May to October brings with it a higher chance of rain, but frequent package offers and lower prices are certainly a draw. Daily showers are a consideration, but run like clockwork, so why not engage a planner who understands the climate, and the dramatic deluge could turn into a feature of your day. 
Gaze in awe as the sun makes its appearance just in time for you to walk down the aisle.
Research In Person
While many are swept up by dreams of a paradise wedding, this can distort reality so we implore any couple planning their event in an unknown land to visit at least once. 
You will have to put your faith in a planner eventually, but be sure to get first-hand experience of the local culture - as well as the venue itself - so that when it comes to detailing your ceremony, you can visualise exactly how the day should unfold.
Added to this, the diversity of the country, one must understand that certain regions are less suited to particular ceremonies, so exploring the country is the only option when hoping to find a landscape reflective of your reveries. 
After all, pictures only show so much and weddings only come around once, so you will want to be certain you have elected for that one heavenly spot.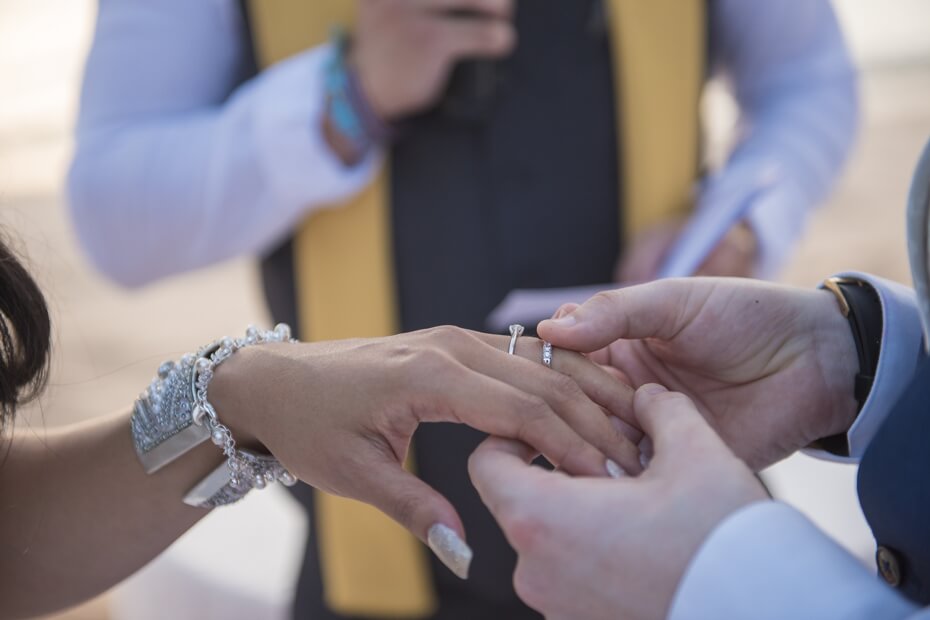 Understand Local Customs
You've identified your dream destination; you've visited surrounding towns; now take the time to absorb some detail about the cultural history of where you will be wed. 
This not only shows a healthy respect for the country that will host your ceremony, local etiquette can be somewhat outside the typical and will require a level of consideration when planning the service.
Thailand is a deeply Buddhist nation with marriage sacrosanct and respected by all, and adopting local rituals not only shows your understanding of customary expectations, it can serve as charming twist on the traditional ceremony. 
A morning wedding, for example. More common than one may expect (not least for the gentler climes), nine minutes past nine is considered lucky in Thai culture, thus many opt for this slightly idiosyncratic time for their service - hoping to be blessed with fortune for years to come.
Be Considerate To Your Guests
While many will jump at the opportunity to travel, the expense could come as a shock to others, so providing as much up-front support as possible in order to minimise their concerns is a mindful way to make everyone's lives easier.
Moreover, choosing to get married abroad is a responsibility but, if highly-organised and detailed when planning (including sending wedding invites with at least a year's notice) you will find that a lot of questions and stresses simply disappear.
Share accommodation recommendations, offer vaccination advice, and give guidance on travel and visa requirements. You'll thank us when worried relatives know exactly what is needed if they are going to get on with booking.
Finally, be sure to respect those who can't make the commitment to travel. Hosting a smaller celebration at home not only helps include those who couldn't make it to Thailand, it also allows you to celebrate with all your closest friends – plus, you get to enjoy the day twice.
Winning!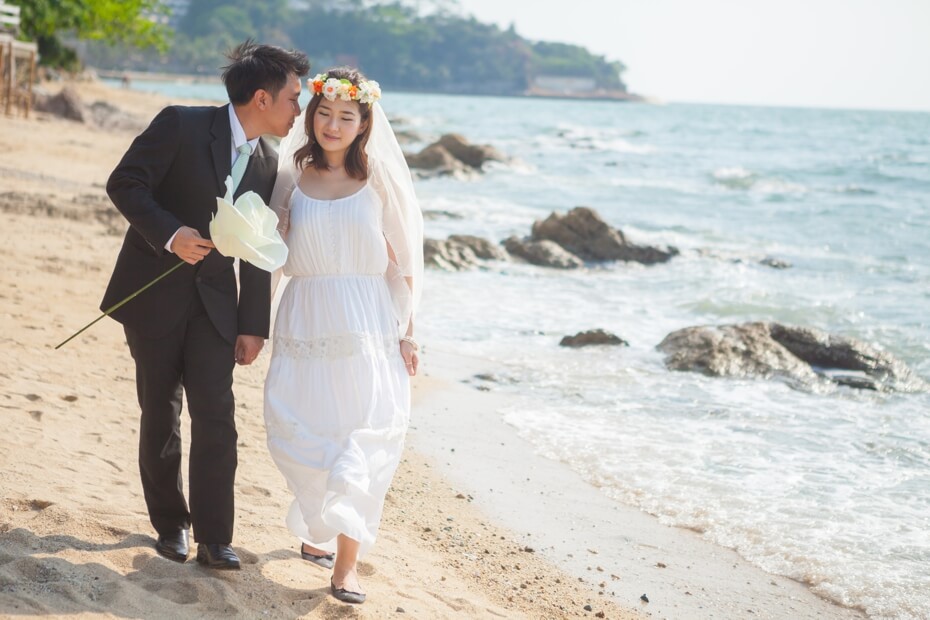 Follow The Letter Of The Law
Perhaps the biggest headache of any international wedding is the legality of actually getting married in a foreign country…
Laws abroad almost certainly differ from those at home but if you contact the Thai embassy, they should be more than helpful in supplying requisite documentation, as well as clarifying on due process once on the ground.
Certain regions may require different certificates that show eligibility to get married, while other islands have a minimum stay requirement prior to the ceremony. As long as you are in contact with a local tourist bureau, such considerations should be flagged well in advance - crisis averted!
The final element is to guarantee that the wedding is legally recognised in your own country so, prior to finalising arrangements and paying a deposit, contact your local government official to understand any other considerations so that when you return home, you can enjoy an official newlywed status.
* * *
Weddings are a daunting prospect at the best of times, but if planned with a level of foresight and consideration, the early legwork will reward you with the most blissful of ceremonies. 
Guaranteed sunshine, sublime surrounds and bountiful banquets are just a handful of the delights that await as you venture to your tropical dreamland. 
Rest assured that the benefits of the destination more than outweigh the stresses of organisation and as soon as you've taken the first steps, excitement can only take over.
Whether your wedding is on the horizon or you're living in fantasy-land (don't worry, we've all been there), it is never too early to get the ball rolling, so why not shortlist your ideal destinations today and start a scrapbook of ideas. Just in case…
The proposal cannot come soon enough!