5 STUNNING WEDDING VILLAS IN PHUKET

5 STUNNING WEDDING VILLAS IN PHUKET

by Asia Villas

2017-07-06
Many couples are choosing to have their wedding hosted on the exotic Thai island of Phuket in the Andaman Sea, with its idyllic sun-drenched beaches and its luxury range of villas. These dream location weddings don't just happen. They have to be planned to the finest detail taking a lot into careful consideration. In this article we recommend 5 Villas in Phuket that are perfectly set up for weddings. It's a great place to start planning your Thailand wedding.
Stunning beachfront and cliff top villas are just the start. Phuket also has a selection of world-class restaurants and vibrant beach clubs, exciting recreational activities, incredible food, bargain hunter shopping and a level of hospitality service that is without parallel. It is the perfect destination for your dream wedding and for a holiday of a lifetime for your friends and family.
Villa Saan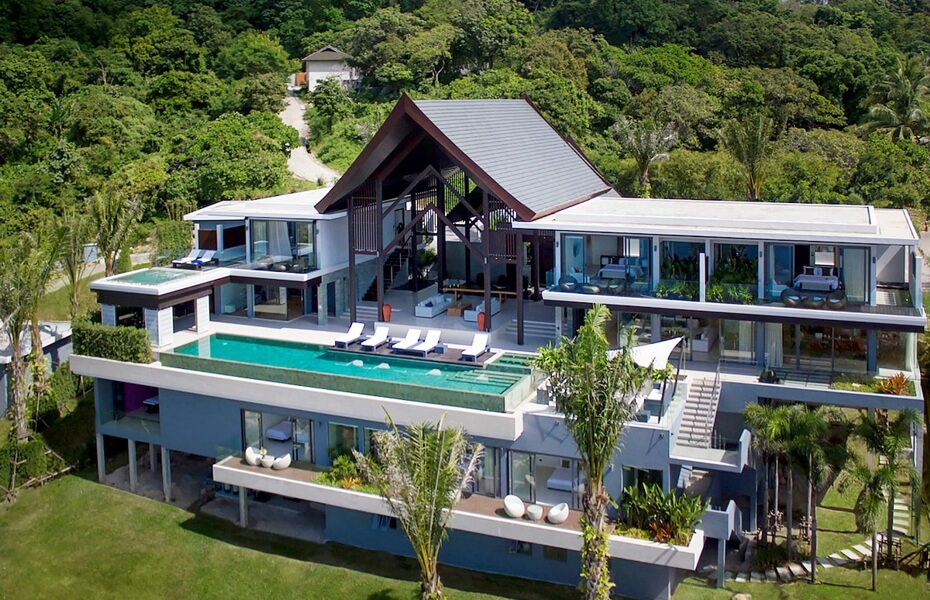 The entrance to Villa Saan amazes with its spectacular high ceiling reminiscent of a cathedral. It sets the perfect stage for a beautiful wedding, but what will really wow the guests are the incredible views. The villa is perched on top of a dramatic and rocky headland on Phuket's west coast high above the Andaman Sea and the vista is breathtaking. If it a spectacular wedding in an awesome location is what you desire then Saan could be the perfect villa for you. 
Each room of this six-bedroomed villa is so luxurious that and your guest will never want to leave. For relaxation there is a 19m infinity-edge pool, a home cinema, gym and spa treatment room. Villa Saan's appeal extends to the hanging of unique works of art in its corridors and sumptuous fittings throughout the living spaces, bedrooms and bathrooms.
More details and rates here.
Sava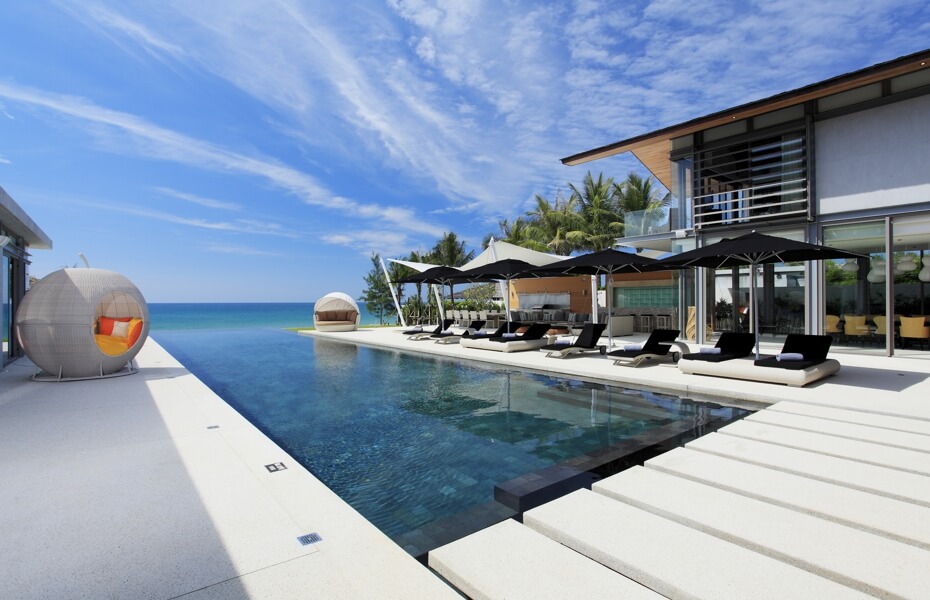 At Sava, there are three sumptuous beachfront properties on the truly unspoiled Natai beach that can be rented separately or together for wedding parties. For a prefect wedding there direct beach access and large lawned areas were your ceremony, reception and even dinner can be held to sound of the crashing waves.
Villa Cielo at Sava is for those who want to show off their modern credentials. It's a stunning villa designed to blend both seemlessly indoor and outdoor luxury. Offering the perfect accommodation option for a wedding group of friends in search of a cosseted yet sophisticated oceanfront escape, this expansive, stylish villa boasts open-plan designs that draw in the ocean views and create a liberating sense of privacy and beuty for your wedding. 
Villa Tievoli is a spectacular beach front property that combines with spacious living areas for relaxation and entertainment. It is truly the ultimate beach front villa with  200 meters of white sand frontage, which is perfect for wedding or just your private playground.It has six double bedrooms, luxurious living spaces and a 25m infinity pool.
Villa Essenza blends colonial elegance with contemporary design. The entire villa opens onto a secluded sandy beach and its impressive size and intelligent layout also makes this villa an appealing choice for private weddings and group celebrations.
Jivana Villas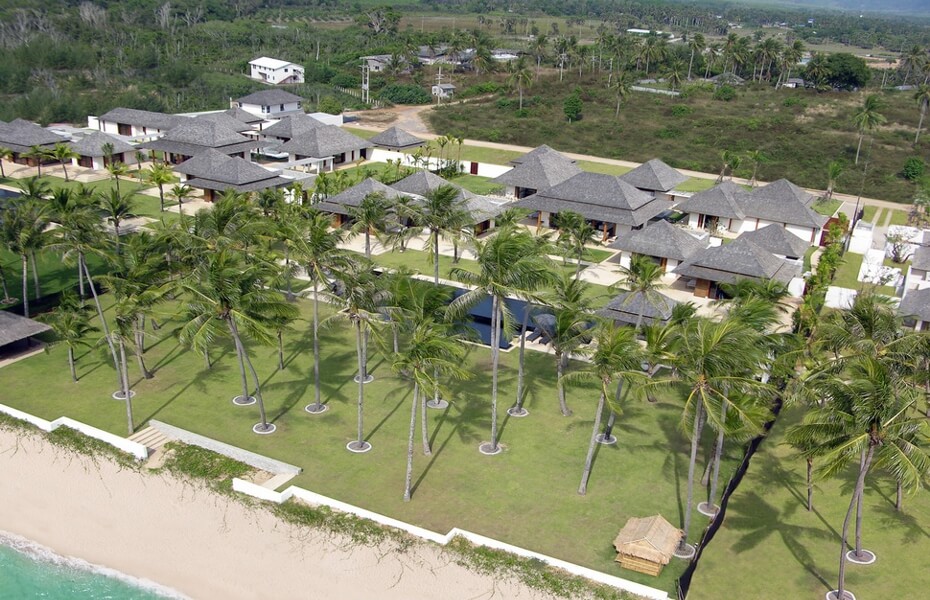 Jivana Villas is a luxury development of tropical residences on Natai Beach. As well as huge lawned areas there is 120m of beachfront access. It is renowned for its sumptuous gardens and huge open spaces surrounding the villas. Only a 20 minute drive from Phuket international Airport, but in the north away from the bustling Phuket Idland, the Jivana Estate offers couples a truly secluded, private and exotic location for a beautiful wedding. One of the the rare truly beachfront properties in Phuket it is a very special location to have a wedding and for guests is also within a convenient distance of golf courses and marinas and other lovely resorts for accomodating bigger groups.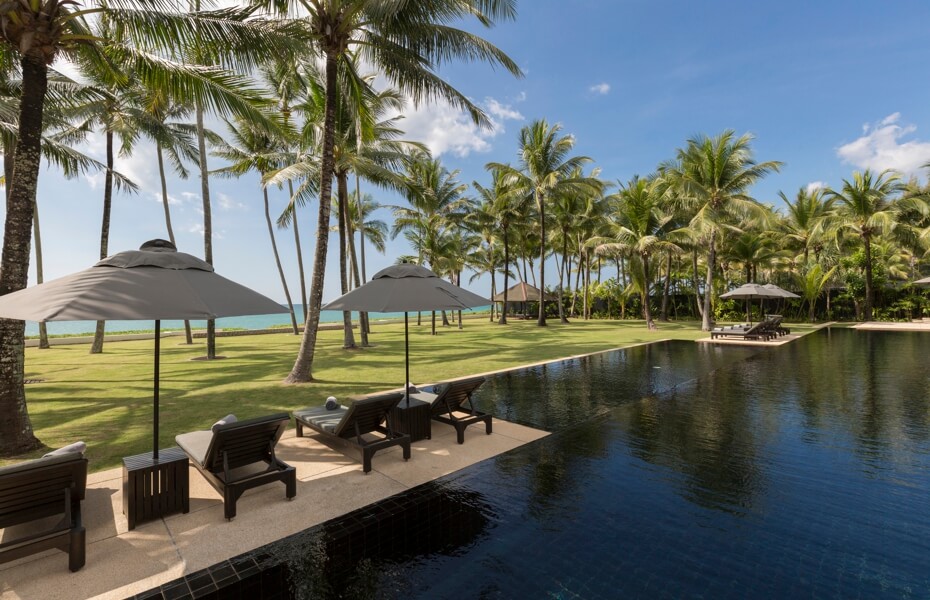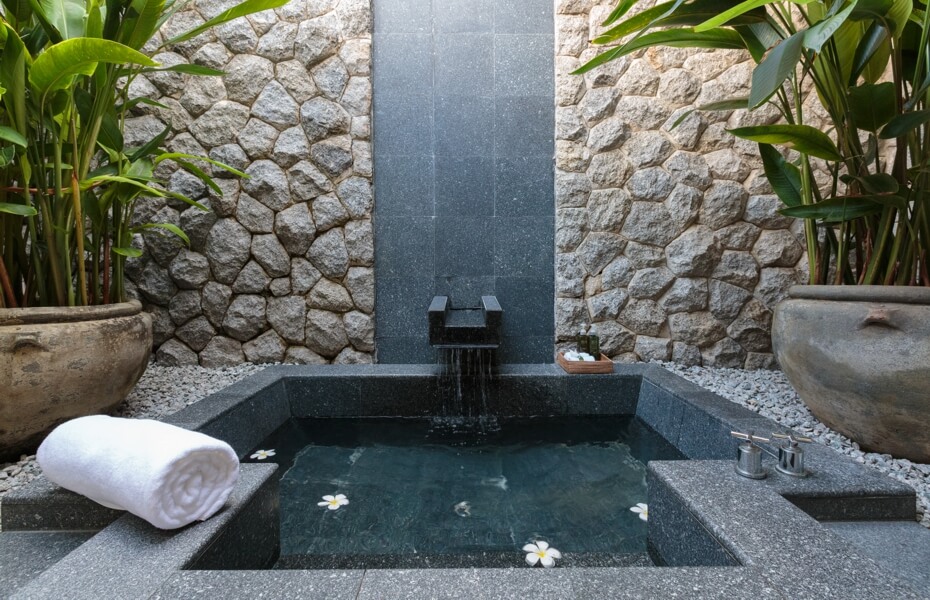 Villa Ananda  sits on over 9,500 sq.m. of absolute beachfront land offering sweeping views of The Andaman Sea. Sunsets are a very special time at Ananda with gorgeous burnt orange and purple colours protruding from the twilight skies. A sunset wedding here will never be forgotten and your special day will be truly magical. Before and after the wedding guests can enjoy mingle on the lawns in the gentle sea breeze while chilling in the shade of coconut trees. 
Villa Jia offers couples unrivalled space and luxury on the very edge of the mighty Indian Ocean. From the moment you arrive and are greeted by the villa's cascading waterfall you'll fall under its spell. Your inviting pool is separated from the sea by an uncluttered strip of lush grass and sentinel palm trees. The setting is peicture perfect for a most memorable wedding.
Villa Shanti is a beach house with a level of sophistication that is rarely seen. Shanti means peace and this glorious setting aims to wrap you in a blanket of tranquility. There are fine views over huge lawns down to the beach and ocean beyond that make for te perfect tropical bacvkdrop to your beach wedding.
As a location for a spectacular wedding Jivana Villas is difficult to ignore as it is designed for the very best that a pristine tropical beachfront has to offer.  With the unspoiled sands and deep blue water with multicolour sunsets over the Andaman Sea there is little more you need than a beautiful couple and their special guests for the prefect tropical wedding.
The Aquila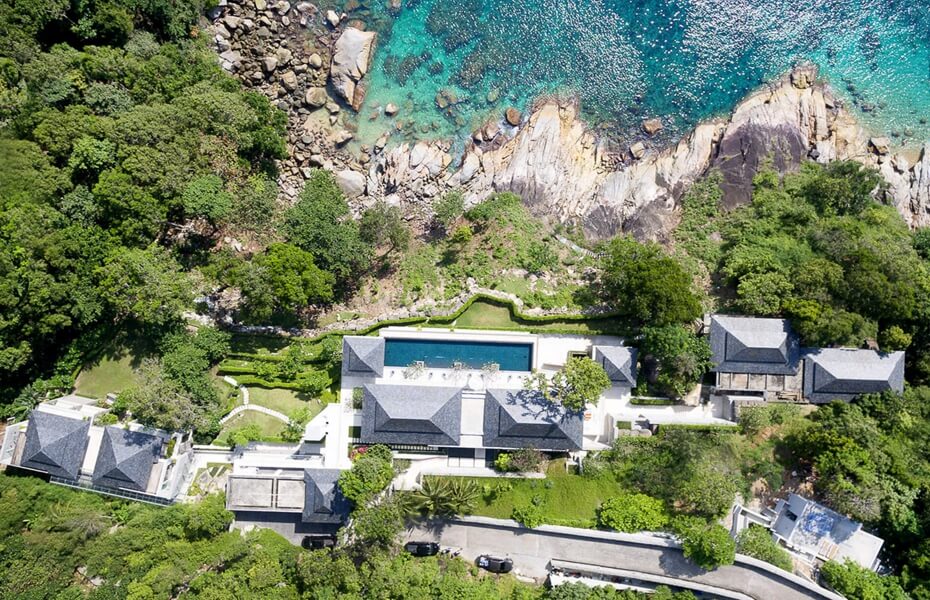 The breath taking views over the Andaman Sea at The Aquila on offer are the perfect backdrop to you dream wedding. Nestling high up a dramatic cliff top in its own private cove, the views down to the turquoise water breaking on the rocks below and then out over the ocean are simply stunning. Surrounded by dense tropical jungle, this ultra luxury villa will provide endless perfect photo opportunities. Fully equipped with 7 bedrooms there are also neighbouring villas in Waterfall Cove that are savailable for rent if you have more than 14 guests. The Aquila is built for entertaining. There is a spa, a gym and a 30m pool.  After your wedding there is a full functional bar with pool table and games room to party the night away with your guests. Privacy and seclusion abound in this rare setting that is perfect for the ultimate dream wedding. 
More details and rates here.
Villa Aye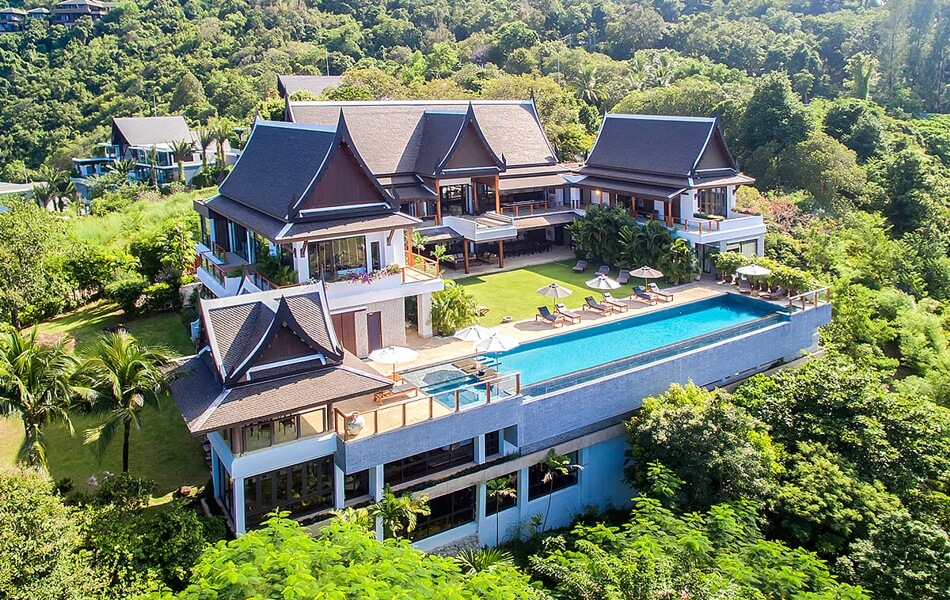 This stunning villa has been designed by one of Thailand's very best architects and a wedding here will create memories that last forever. It's quiet seclusion is enhanced by stylish sophistication that subtly weaves traditional Thai design with tropical modern contemporary.  It gives this villa an unforgettable aura of space, both on the inside and the outside. Another appealing aspect is that it is only 15 minutes from the delights of Patong with its entertainment and shopping.
There are eight bedrooms for the wedding party, which is a rarity to rent in a Phuket villa of this quality. The whole is surrounded by a very large, luxuriously manicured lawn. The pool is brightly lit at night with "stars". As well as providing privacy and seclusion you will enjoy amazing sunsets over the luscious Andaman Sea.
More details here.
***
The golden sun is always smiling on Phuket, and your wedding will be made extra memorable as you recall the soft whisper of the island's waves and the gentle breeze that kiss you and your partner as you wait together to make your vows to each other. You can rest assured that all of these wonderful things are essential parts of the perfect Phuket beach wedding.
At AsiaVillas we can help create your dream wedding in your own private luxury villa in Phuket, one of the most stunning destinations in Asia.