THE 5 BEST BEACH CLUBS IN PHUKET

THE 5 BEST BEACH CLUBS IN PHUKET

by Justin Sandery

2017-06-23
Phuket is renowned for its beautiful beaches, tropical backdrops, colourful population and sizzling street food but delve a bit deeper into the island's party lifestyle - and you'll find high quality beach clubs that would rival any Ibizan hideaway. With some of Thailand's most stunning and popular beaches found here alongside the most luxurious resort and villa accommodations on offer through the likes of Asia Villas, it is no surprise that you will also find an assortment of chic and happening social hotspots. Quality beach clubs that continue to attract a sexy, high-class party clientele, year after year.
Here is our selection of the top 5 beach clubs in Phuket you must visit at least once:
Café Del Mar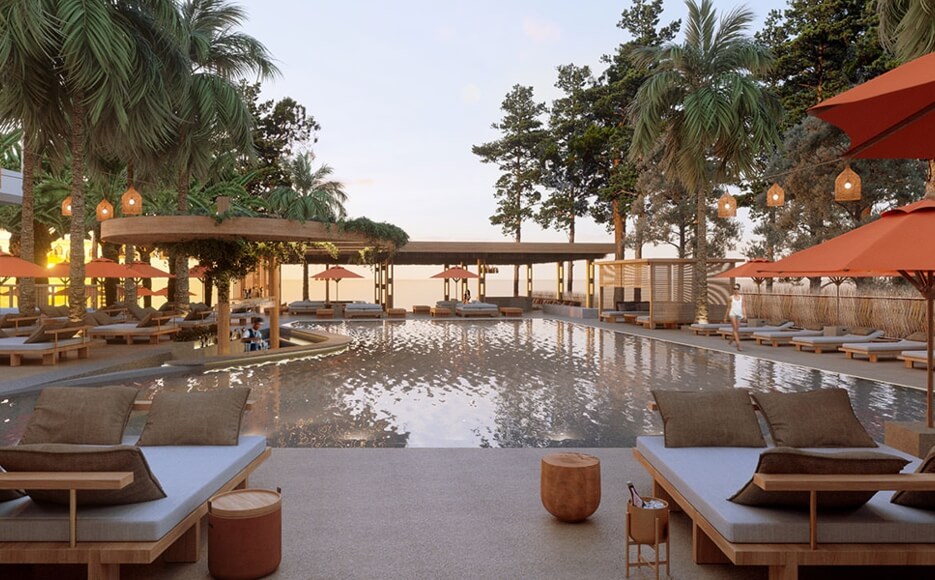 This one needs no introduction if you know anything about beach clubs. A legendary name on the Ibizan circuit, it was only a matter of time before the Café Del Mar brand was taken to the global stage. Offering both pool-side and beach-based cocktails, with music playing throughout the day then late into the evening, this is the perfect venue to kick off your break in true party style.
Not only a great day venue, the club boasts one of the island's finest restaurants meaning you can spend a day by the beach or pool before selecting a table and enjoying a top-drawer meal with a sunset to match.
Once the dining formalities are out the way, you can head back into the club which stays open until 2am, joining other revellers and enjoying the stylish party vibe put on by a host of renowned local and international DJ's playing world class music. The Sunday pool party is not to be missed.
HQ by Montazure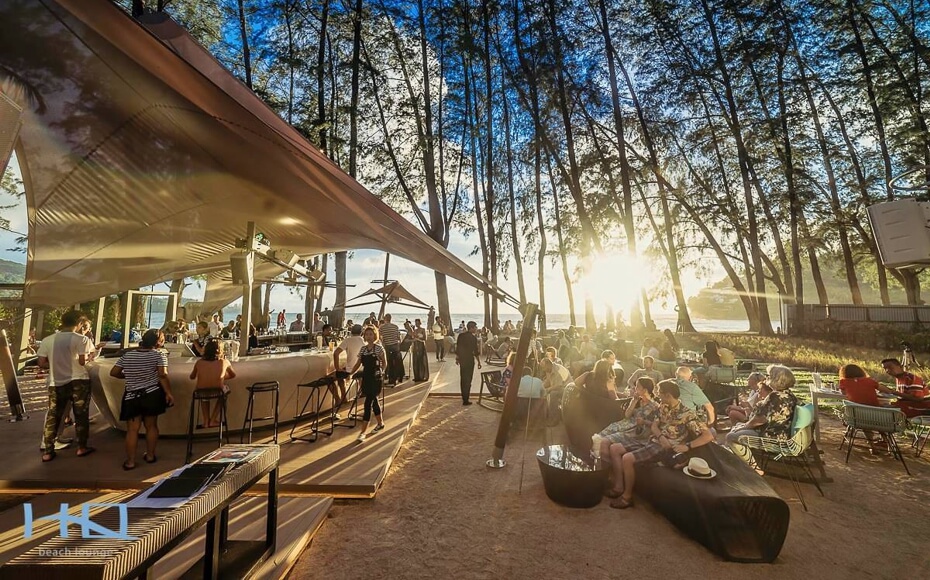 HQ Beach Lounge has got to be one of Phuket's most stylish daytime beach hangouts. With a chic finish, this beach bar and club has put in every effort to ensure a luxury vibe. With the private hillside villas of the Montazure just beyond the beach, you know you are partying amongst the jetsetters when you arrive here.
Located on the stunning northern end of Kamala beach, and set under the shade of picturesque Casuarina trees. HQ boasts very high quality food with a mixed asian and western menu.  Its easy to pass a whole day here, grazing through the different offerings – both food and drink – while intermittently taking a dip in the inviting blue waters of the bay. 
HQ tends to stay open late (with no official closing time) and generally only closes its doors once the final partygoers are ready to call it a night. 
So, arrive with energy and be ready to party through to the early hours.
Catch Beach Club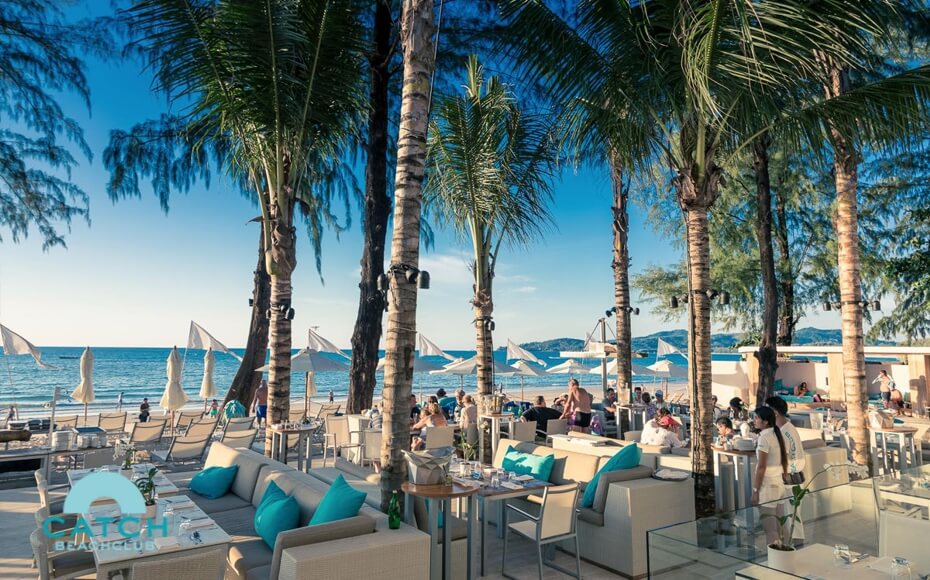 Located on the west coast of the island in the Bangtao district, Catch Beach Club is always favorite amongst many visitors. It has relocated several times but has never lost its charm and seems to have really found its feet in this new spot. 
The atmosphere of the club is warm and welcoming during the day, descending into a livelier affair at night as the cocktails start to flow. International DJ and and equally international clientele make for a large party well into the night.
Given its notoriety it does tend to get busy so if you're looking to eat there, you should think about a reservation but if you're just looking to grab a cold beer or two then turn up, find a spot and enjoy the good-looking party crowd who frequent the venue. 
Sunsets are something to behold given the westerly aspect so turn up early as the sky lights up before the whole place descends into darkness, when the fun really starts.
Iguana Beach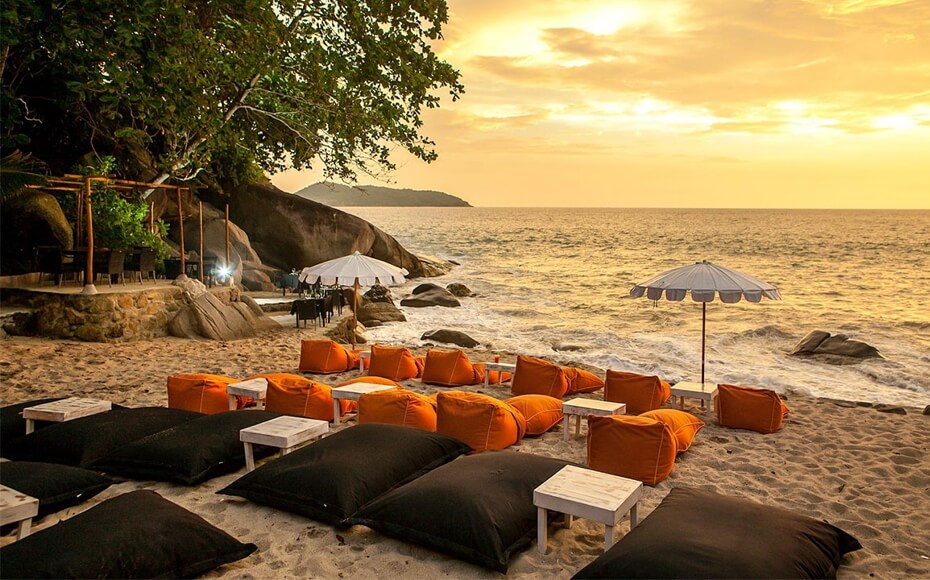 Away from the madding crowds of Patong, Iguana is a true oasis hidden in one of the most stunning coves in the area. Clear waters and a boulder-strewn beach greet you on arrival and it is no wonder that this is as popular an area for scuba diving as it is for sitting on the beach with a cold beer.
Iguana has the most laid-back vibe of all our recommendations - maybe due to its remote location - so this is the ideal hangout if you're looking for somewhere more romantic during your time away. Clients rave about the quality of service, the beautiful food and the inspiring surrounds so, if you're looking to impress, this could be the choice for you.
The giant beanbags are an ideal place to unwind away from the hustle-and-bustle of Phuket life. Sunday place host to a lively day/night party with a more underground feel and music to match.
Lay back in beach perfection, order a cocktail and let the day come to an end in style.
Dream Beach Club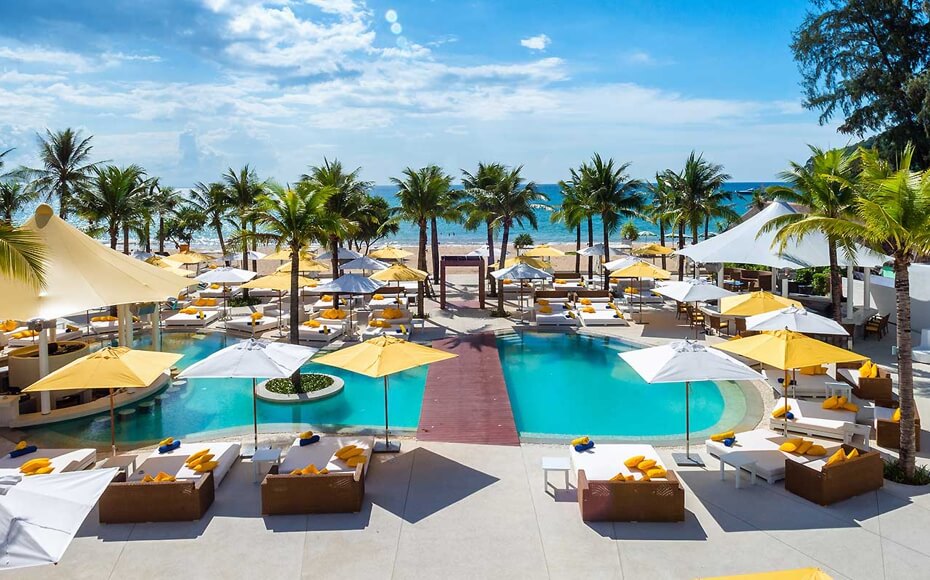 An extension to the New York City Dream brand, this is everything you'd expect from a club hailing from the coolest city in the world. What used to be the famous Nikki Beach was replaced in 2015 by Dream, and Bangtao beach is no poorer for it.  The place still attracts the party crowd of old, just in a more modern, upbeat environment.
Dream hosts live acts as well as DJ's and puts great emphasis on the quality of music, boasting household names such as Hed Kandi and the Ministry of Sound labels. If you're looking to party amongst a well-established crowd, Dream could well be your choice. 
There's a great selection of loungers and cabanas to relax in and, whilst the beach club has an official closing time of midnight, the party continues until at least 2am in the upstairs PHD (Penthouse Dream) nightclub.
So, if you're on the lookout for a more adventurous break with a revelry that rivals any European destination, Phuket could be just the ticket. With a host of rental options including numerous deluxe villa retreats offered through Asia Villas, coupled with the great selection of beach clubs (not to mention an oft-favorable exchange rate), Thailand can be a much more economical - yet no less luxurious - party destination.